About the Seminar | Schedule | Practical Information | Registration Form
About the Seminar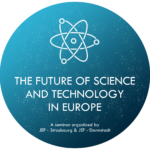 Do you ever wonder how the European Union and sciences are linked? Would you like to reflect on how the EU could face scientific and technological challenges? This event is for you!
In order to grasp the link between scientific and technological progress and european policy, participants will have deeper insight from experts on their respective fields through conferences and workshop. The idea is to show how new technologies and sciences have impacts on our daily lives and why should European Union start to think how to face ethical and social challenges that will emerge. This will be done through the making of scenarios created by participants themselves.
The first part of the seminar will take place in Strasbourg, the second part of the seminar will take place in Darmstadt.
Schedule
Saturday, 23rd June (Strasbourg)
Morning: Transport participants to Strasbourg
Afternoon: Warm-up activity; Conference "Bioethical challenges: How to edit Europe's future?"
Evening: Dinner and Bar Tour
Sunday, 24th June (Strasbourg)
Morning: Workhop on bioethics
Afternoon: Conference "From AI to Industry 4.0: How to adress digital transformation in Europe?"
Evening: Home-transport of participants
Friday, 29th June (Darmstadt)
Morning/Noon: Transport participants to Darmstadt
Afternoon: Visit of European Organisation for the Exploitation of Meteorological Satellites (EUMETSAT) and European Space Operations Centre (ESOC)
Evening: Bar Tour / Heinerfest
Saturday, 30th June (Darmstadt)
Morning: Workshop on spacial exploration
Afternoon: Workshop on AI and Industry 4.0
Evening: Pub Crawl / Heinerfest
Sunday, 1st July (Darmstadt)
Morning: Drafting articles; Work on out-come of the seminar
Afternoon: Home-transport participants
Practical information
Accomondation
We offer free private accomondation in Strasbourg from 23th to 24th June and in Darmstadt from 29th June to 1st July.
Food
All meals are included.
Transport
We offer a common transport to Strasbourg on the first week-end (23th – 24th june) and to Darmstadt on the second week-end (29th June – 1st July). You will get partial travel-remboursement.
Inscription fees
30,00 € for members of JEF
40,00 € for non-members of JEF
If we decide to withdraw your application for the seminar, we will contact you per e-mail for the back payment of the inscription fee.
Registration Closed
The seminar has passed, we had a good time and are looking forward to an upcoming edition.