Termin / Date:
Donnerstag, 07. Oktober 2021
19:00 Uhr - 22:00 Uhr / 7:00 PM to 10:00 PM CEST
Ort / Location:
Alte Universität, Marburg
Lahntor 3
35037 Marburg

Raum / Room: n. a.
Facebook-Seite zur Veranstaltung / Facebook page for the event
Our Topic for Today
Studying abroad and settling into a new city is always challenging,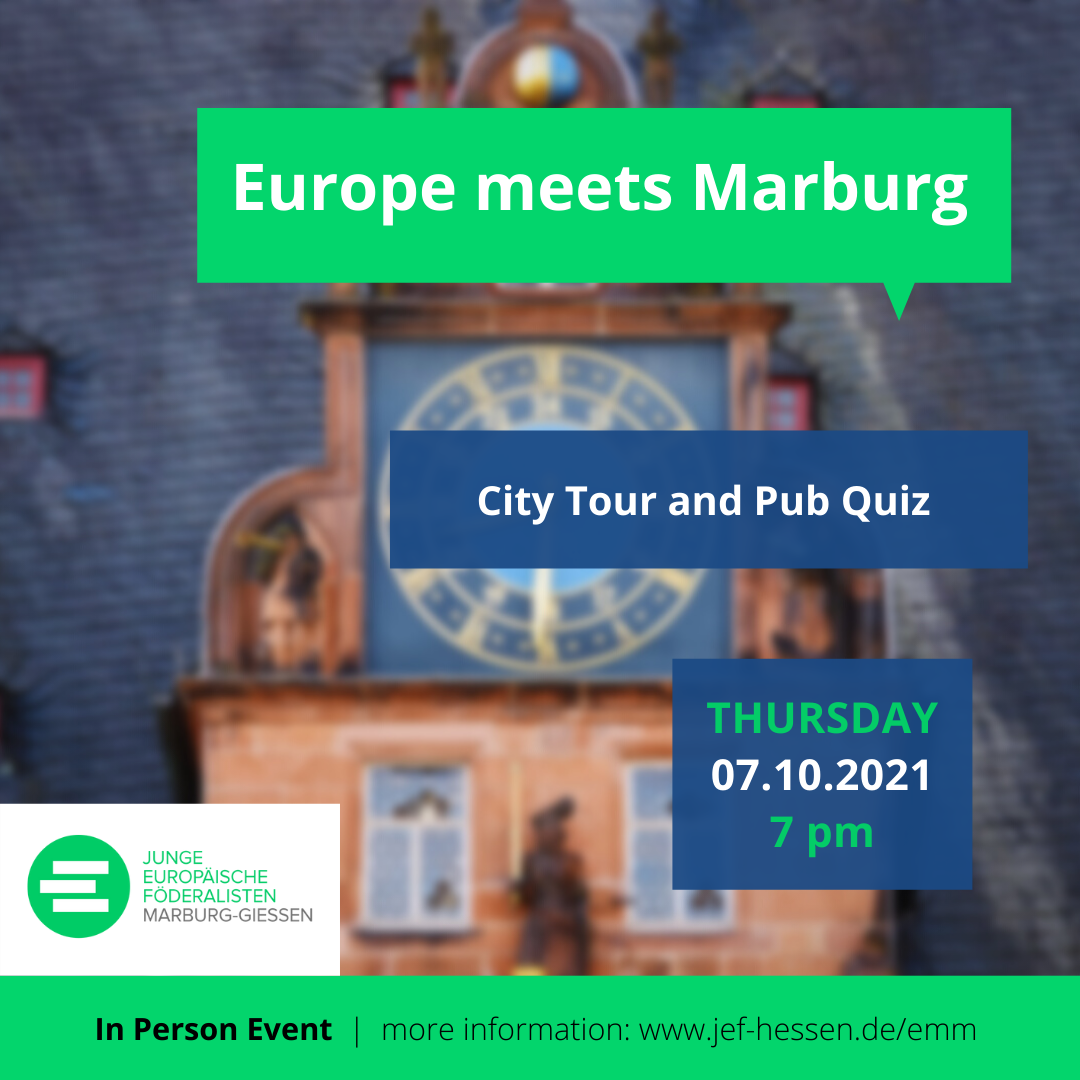 but with a pandemic going on, it is now more challenging than ever. Still, we, the Young European Federalists Marburg, believe that international encounters and interactions at the citizen level are at the core of European unification and the creation of a common public space for all Europeans. We would therefore like to warmly welcome you to our In Person "City Tour and Pub Quiz" on Thursday 07/10/2021.
Join us for a tour through Marburg, a friendly pub quiz and a chance to ask current students about living and studying in the city.
The event will start at 7pm but you can join us anytime. We look forward to seeing you!
About our European evenings ("Europa-Abende")
Every second Wednesday (this time is an exception) we are meeting in Marburg for a European evening to discuss current European policy issues in a relaxed atmosphere. Even a worldwide pandemic is no reason for us to break with this tradition 🙂 – the only difference being that we met in a virtual room instead of a café. Our European evenings are a great opportunity to talk to other European enthusiasts and to find out what JEF is all about.
You haven't yet heard about JEF, but want to learn more about us and our activities? No problem! Whether alone or together with friends – you are more than welcome to come by! We would be delighted to have you with us!
And if you have any questions beforehand, do not hesitate to contact us via the contact form below.