Termin / Date:
Mittwoch, 26. Mai 2021
19:00 Uhr - 22:00 Uhr / 7:00 PM to 10:00 PM CEST
Facebook-Seite zur Veranstaltung / Facebook page for the event
Zum Thema des Abends
When the Republic of Cyprus joined the European Union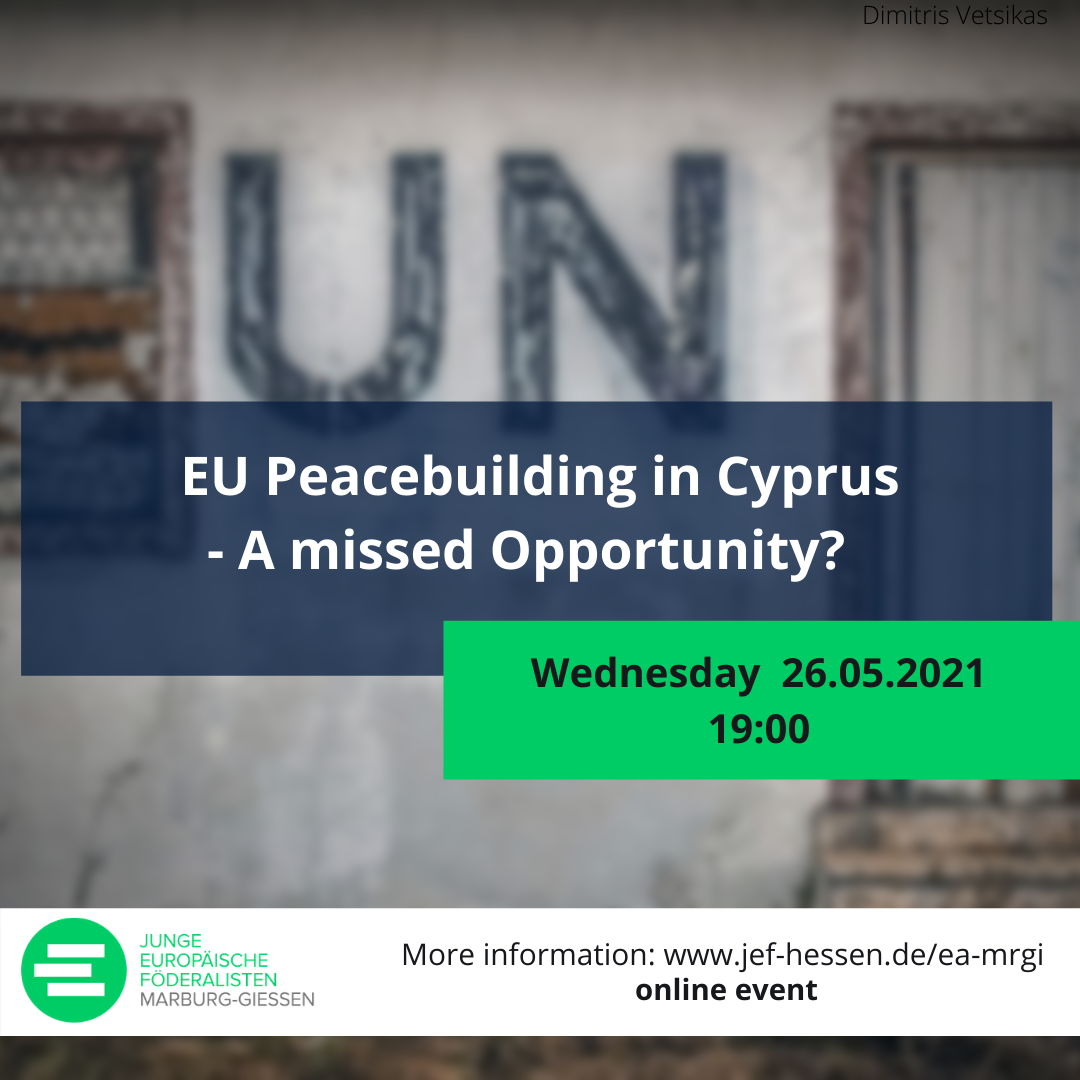 on 1 May 2004, the Union inherited a decades-long conflict. Since 1974, the Cypriot island has been divided into the Republic of Cyprus and the Turkish Republic of Northern Cyprus, separated by a UN buffer zone. To this day, Union membership and the enforcement of EU law remain de facto limited to the Republic of Cyprus and thus to the southern part of the island, which is mainly inhabited by Greek Cypriots. Arguably, the EU lost its most important means of exerting influence on the conflict parties, following the accession of Cyprus. Nevertheless, the Union, which has been working intensively to find a solution to the conflict since the early 1990s, remains for many the greatest source of hope for conflict resolution and reunification of the island. As a result, voices have increasingly been raised calling for the EU to take its place at the negotiating table of reunification talks, which have recently been stalled due to geopolitical tensions between Greece and Cyprus as well as Turkey.
But how can the European Union play a meaningful part in the negotiations and the peace process as a whole? What role do European-Turkish relations play in all this? And what impact will the parliamentary elections in the Republic of Cyprus on 30 May have on Cypriot reunification? On 26 May, we want to give an input on the topic and address and discuss these and many more questions with you.
Speaker of the evening: Jannis Kohlt, Master's student at the University of Marburg in Political Integration and Economic Globalisation. During his studies, he focused on peace and conflict studies and most recently conducted research on the Cyprus conflict for his master thesis and in preparation for his dissertation.
We look forward to seeing you!
About our European evenings ("Europa-Abende")
Every second Wednesday we are meeting in Marburg for a European evening to discuss current European policy issues in a relaxed atmosphere. Even a worldwide pandemic is no reason for us to break with this tradition 🙂 – the only difference being that we are currently meeting in a virtual room instead of a café. Our European evenings are a great opportunity to talk to other European enthusiasts and to find out what JEF is all about.
You haven't yet heard about JEF, but want to learn more about us and our activities? No problem! Whether alone or together with friends – you are more than welcome to come by! We would be delighted to have you with us!
And if you have any questions beforehand, do not hesitate to contact us via the contact form at the bottom of the page.
BigBlueButton – Notes on Usage
For our event, we use the open-source web conferencing software "BigBlueButton".
For access you need
A compatible browser when using the site from your computer; BigBlueButton recommends using Fire­fox (down­load at https://www.mozilla.org/de/firefox/new/) or Google Chrome (download at https://www.google.com/intl/de/chrome/); most other browsers (especially Safari or Internet Explorer) may have audio quality issues
A headphone to avoid feedback effects; it is best to use a wired headphone; there may be problems with Bluetooth headphones
A microphone; either it is integrated in your notebook or you would have to use a headset with microphone instead of a headphone
If you want to connect from your mobile phone, this works on Android (6.0+) via Chrome (already installed) or Firefox (download at: https://play.google.com/store/apps/details?id=org.mozilla.firefox); on iOS (12.2+) via the standard browser Safari Mobile (already installed).
How to join the web conference
You will reveice a link from us that you can use to join the web conference.
Open the link shortly before the start of the event.
Enter your name.
Click on the "Teilnehmen" field.
You may have to wait a moment for us to let you in.
You will then be asked how you would like to join the conference – click on the "Mit Mikrofon" option on the left.
Then you have to allow the website to access your microphone by selecting the appropriate button.
Troubleshooting guide
Did you install an add blocker in your browser? If yes: deactivate it for the above website.
Did you install the latest version of your browser (recommended: Firefox or Chrome)? If not: Carry out an update.
Is the microphone activated in your operating system?
Did you allow access to your microphone in your browser for the above site?
Did you activate your microphone in "BigBlueButton"?
If you use wireless internet and have problems with the audio quality (be it that the other participants/you can only hear you/them broken or choppy), connect your computer to the internet router via a LAN cable. It may also help if you move closer to the internet router with your notebook / mobile phone or bring it closer to your computer.
How to change the microphone volume in Windows 10
Right-lick the speaker icon on the taskbar in the notification area.
Select "Sound Settings".
Click "Device properties" in the "Input" Section.
Adjust the input level of the microphone by using the "Volume" slider.